If you believe you have found an animal that may be someone's missing pet, please fill out the form on the Lost and Found Main Page.
If you found your pet on our Found Pets Page, please E-mail us at catsincorporated@comcast.net so we can remove them from our list. We would also appreciate a donation so we can continue to offer this service free of charge.
Join this group now if you have Found or Lost a pet.
_________________________________________________________________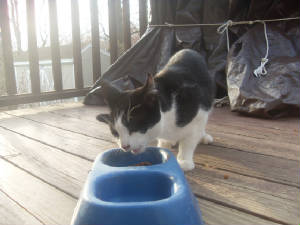 White Township/Oxford area 


FOUND CAT:  Very Friendly Black and White, Male, with black spot on his pink nose. Approx. 1-2 years old and very tolerant of dogs and other cats. The rescuer has been feeding him since around Feb. 2010. He originally ran into the house, up the stairs and settled onto someone's bed!  He has to remain outside so  we hope to find the owner before winter.  Contact Michelle at 453-3858 if this is your cat. Posted 4/30/10.
_________________________________________________________________